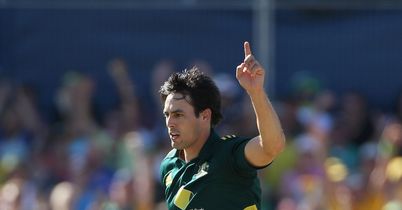 Australia beat England by 57 runs in the seventh and final One Day International in Perth to complete a 6-1 series rout.
Batting first after winning the toss, Australia were in some trouble at 103-4, but a stand of 95 between Adam Voges and David Hussey helped the hosts post a competitive 279-7.
Voges smashed 80 from 72 balls while Hussey made a run-a-ball 60.
England were quickly in trouble as openers Andrew Strauss and Steven Davies were both dismissed without scoring, before a triple-strike from paceman Mitchell Johnson devastated the middle order and reduced the tourists to 64-5.
There was no coming back from there and despite a defiant career-best unbeaten half-century from Michael Yardy, England came up well short once again.
The tourists looked like a team more than ready for the flight home, although it was a shame they could not rouse themselves for a final hurrah in front of a sell-out crowd at the WACA.
Strauss was bowled from the second ball of the innings when he was beaten for pace by Shaun Tait (3-48), before Davies top-edged a pull off Doug Bollinger to Brad Haddin.
Jonathan Trott and Kevin Pietersen put on a 43-run stand but their work was undone when Johnson claimed three quick wickets.
Trott (14) edged a rising delivery to Hussey at first slip, before Pietersen (26) failed to diaply the patience the crisis necessitated and drove a wide ball to debutant Jason Krejza at backward point.
Johnson struck for the third time when Ian Bell loosely sliced to third man, where Tait held the chance to leave England 64-5 in the 15th over.
Matt Prior and Yardy combined in a stand of 55 to provide a glimmer of hope, but the tourists are currently too mired in a losing habit to threaten a fightback of the proportions required here.
Krejza claimed his first one-day wicket when Prior (39) was well caught by Hussey at cover before Luke Wright added 24 from 19 balls, until he sliced the spinner to Bollinger at backward point.
Yardy hit three fours and a six in his battling 61 from 71 balls but it never looked likely to turn the tide, as Tait returned to fire out tailenders Liam Plunkett (20) and Steven Finn (nought).
James Anderson was last man out when he skied a catch off John Hastings that Haddin held at short cover.
19 wides
Earlier, 19 wides helped Australia recover from a slow start to reach 279-7.
The hosts had begun at a sedate pace after Plunkett (2-49) and Anderson (3-48) had claimed the early wickets of Tim Paine (five) and Callum Ferguson (15) respectively.
England's position could have been even stronger had Yardy not dropped Haddin before he had scored, but the off-spinner eventually made amends when he dismissed the left-hander, who struggled to 27 from 58 balls, following a show-reel catch by Finn at long-on.
Finn was falling back over the rope after making the catch, but threw the ball in the air to re-gather once he returned to the playing area.
Yardy struck again when acting captain Cameron White, who also scratched around in making 24 from 47 balls, offered a return catch to leave the hosts 102-4 at the halfway stage.
The scoring rate was increased dramatically, however, when Voges joined his fellow Western Australian Hussey at the crease.
Hussey was given a life on four when Wright dropped a difficult return chance and he made the most of it to reach his half-century from 44 balls, while Voges took one ball longer to reach the milestone.
Plunkett returned to dismiss Hussey, who got a leading edge that Bell held diving in from gully, but the stand set the stage for Australia to hit out in the last 10 overs.
While Anderson grabbed two wickets in the batting powerplay, removing the dangerous Johnson (26) to a superb diving catch by Prior at deep midwicket and Hastings (six), Australia still took 48 from the five overs.
It was to prove more than enough against an England side that has finished a momentous tour on a disappointingly low-key note.
Comments (5)
Rob Riches says...
What this result shows is that England's attitude to the 50-over game hasn't changed one iota. The fact that the game was invented overseas (Australia) continues to infuse the team with the idea that one-day cricket isn't 'proper cricket.' Until England get their heads and hearts around to embracing this format as a legitimate pursuit, worthy of their full appreciation and commitment, we will continue to watch one debacle after another, with England depending on the other team to play badly for any positive result.
Posted 15:05 6th February 2011
Chris White says...
As an Aussie it's great to get some small recompense for losing the ashes. If anything the ODI series has revealed there is depth in Australian cricket...it just needs to be managed right!! As for England...I wouldn't read too much into this result..the world cup is in the subcontinent, different conditions and hopefully injured players will be returning like swann who will make a difference..I expect England and hopefully Australia will do well.
Posted 11:53 6th February 2011
Adam Diggle says...
Come on england get bell opening, you don't have to have a wicketkeeper up there, Australia didn't write the rule book. And surprise surprise once again wright takes no wickets, goes for runs and then gets caught out going hard at a ball anyone else would have left alone despite england having plenty of time to chase the total down, he masterminds his own downfall every time, bopara should detinately replace him. I'm not all that worried about the world cup, our bowling will be alot stronger with the return of broad and swann, if they had been playing i doubt australia would have recovered from 103-4 to get the total they did. Morgans injury is a concern though.
Posted 11:50 6th February 2011
George Staples says...
Another defeat by a team who have regrouped and turned the tide. England were abject. When will Flower and Strauss stop reserving team places for players who are out of form? Why on earth is Pieterson not being given a wake up call by an immediate omission? Is he being saved for the match against Holland in the World Cup and then all will be forgiven? His body language. commitment and performances should tell Flower and Strauss that he isn't ready or willing. Let us HOPE that Flower and Strauss see the light and omit Pieterson, Prior and Collingwood, but I suspect they will all play in the easy world cup rounds and then be selected for later games. What a farce. By the way, is this the scruffiest England team since Graham Gooch's tour ? Wake up England, remember, South Africa, Sri Lanka, India and Australia are waiting (als0 Bangladesh!! George Staples
Posted 11:45 6th February 2011
Barry Cashin says...
I WAS RIGHT!!! A resounding 6-1 hammering. England didn¿t even turn up and it was a humiliating end to a previously highly successful tour as well as the worst possible preparation for a World Cup we¿re surely going to depart from at the group stages. Yes, we have had our fair share of injuries but we have been blinkered in our selection policy. The Prior experiment has been a nightmare and is it any wonder that Davies was out cheaply today when he has been shown such disregard by the selectors? We have serious problems in our squad as well ¿ Wright just isn¿t the right type of player to be in an England shirt, Yardy is nothing more than a pedestrian county one day bowler ¿ he isn¿t a match winner nor a game changer. Pietersen¿s glory days are years in the past and it should only be a matter of time until he gets the chop. Surely no man can continue being picked on the success of 2005! Broad is a real gamble and will be nowhere near match fit come the WC. Trott is winning me around with some great performances but I still feel his pace of innings building is more suited to tests. Anderson doesn¿t seem to be firing as well as he can do and Morgan, before his finger break has shown what consistent failure is all about. Collingwood too is another whose days are surely numbered. So you see we have problems. Well only if you have blinkered vision. In the West Indies, however, we have a proud Lions squad with some great in-form talent which we should be blooding in the big arena. Hildreth, James Taylor and the forgotten Kieswetter are three such names. If you don¿t believe me, try 149, 96 and 116 respectively. No, England have a lot to ponder on as we reach this critical crossroads in their push to be the No1 team in the world. On current form, I think Kenya have more chance of claiming that particular mantle!
Posted 11:07 6th February 2011